Thu, 16 December 2010
KMO of the C-Realm Podcast stops by...
I've had some difficulties loading up this podcast so please bear with me, the recording of this podcast also had some irregular difficulties. Someday I'll eventually figure this all out.... someday.
In this episode KMO of the C-Realm Podcast stops by to talk about his recent book (Conversations On Collapse), his Podcast, and the Eco-Village. We also explore many other topics including talking about KMO's tales of the road as he has been couch-surfing while promoting his recent book. The conversation also veers into talking about technology and Kevin Kelley's recent book 'What Technology Wants'.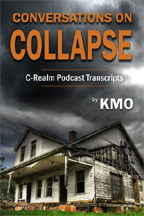 Comments[2]
---
I'd like to echo what Frank said. Thanks for a great show Steve, and keep them coming in 2011! Frank, your comment about "cannot speak openly to friends and family" is absolutely right. For me, the most difficult part of the period of history we are entering (because that's what it is) is not being able to speak to my wife about it. I have said to her on more than one occasion "I have some evidence that there are problems ahead which I would like to show you" and her response has been, literally, "I don't want to look at the evidence". As KMO says, you can only feed the hungry.

Steve, thanks for another great show and insight into (another) great podcaster. I don't write fan mail too often, but as far as the final email homage you sent to KMO, in my opinion those same sentiments apply largely to yourself as well. I've listed to your show for the last year or so and I've noticed your growth as an interviewer and in grasping the issues has been tremendous. Your care and enthusiasm come through, and I'm sure you know that you and KMO are both articulating the thoughts of the many, many of us out here who cannot speak openly to our friends and family of what are really the most momentous changes and challenges to ever face humanity. Before I discovered podcasts, I would listen to hours and hours of radio while driving. As you say, a sports station can spend an entire week dissecting one football game or even one play! But the most complex topics of our time usually merit a 90 second interview on NPR, if they are even mentioned. I don't see your shows as in competition at all, I love the C-realm and have been a faithful listener to that show as well. We could truly use many more voices. Anyway, thanks very much for putting out a great show every week and I'm looking forward to many, many more!
Post your comment: