Mon, 1 September 2014
The Virtue of Selfishness with Wes Bertrand
So sacrifice is a virtue and selfishness is a vice, right? Not so fast! Wes Bertrand joins me to discuss the philosophy of self-interest. Of course much of the time is spent talking about Ayn Rand's great book on the topic, The Virtue of Selfishness.
What is wrong with sacrifice? Isn't selfishness evil? Wes and I go deep on this one, exploring the effects of the dominant belief in today's culture, the philosophy of sacrifice, and how that contrasts with Ayn Rand's philosophy.
Find more from Wes here:
http://happinesscounseling.com/happiness-resources
http://choiceconversations.libsyn.com/no-strings-attached-movie-review-with-wes-bertrand
http://choiceconversations.libsyn.com/judgment-and-responsibility-with-darrell-becker-and-wes-bertrand
http://choiceconversations.libsyn.com/the-virgin-diet-and-n-1-experiments-with-wes-bertrand
http://choiceconversations.libsyn.com/is-society-progressing
http://choiceconversations.libsyn.com/complete-liberty-with-wes-bertrand
Check out my new podcast with Kevin Geary, Reboot Your Kids! Is one Chris Stefanick podcast not enough for you? I have just the thing! In the Reboot Your Kids podcast, we explore parenting, health, authentic living, and where they intersect: http://rebootyourkids.com/listen/
Are you a college football fan? Lately I've been a guest host on The College Football Show with Andy Evans. If you like college football, especially the Big Ten or Ohio State, check it out! https://soundcloud.com/osufbf
Choice Conversations is now on Facebook. Stop in, say hi, discuss the shows, and more! If you like Choice Conversations then "like" me on facebook, and then share the page with your friends: https://www.facebook.com/ChoiceConversationsPodcast
Help the Podcast! I would greatly appreciate it if you went to itunes, wrote a quick review, and rated the show. This is a great way to increase downloads and to help the show grow. The more downloads, the more easily I can book high profile guests: https://itunes.apple.com/us/podcast/choice-conversations/id315666764
Bumper music: https://www.youtube.com/watch?v=nU8yuWddw0E
---
Tue, 26 August 2014
The College Football Show with Andy Evans
I was recently a guest on The College Football Show with Andrew T. Evans, talking about Ohio State's upcoming season. We cover Braxton Miller's injury, J.T. Barrett, the new defensive coordinator, our predictions for the year, and much more!
I realize this is a bit different from what you're used to seeing here on Choice Conversations. I must admit that if you're not a fan of Big Ten football then this is probably not the show for you.
Find more from Andy here:
https://www.facebook.com/andy.evans.56679?fref=ts
Check out my new podcast with Kevin Geary, Reboot Your Kids! Is one Chris Stefanick podcast not enough for you? I have just the thing! In the Reboot Your Kids podcast, we explore parenting, health, authentic living, and where they intersect: http://rebootyourkids.com/listen/
Choice Conversations is now on Facebook. Stop in, say hi, discuss the shows, and more! If you like Choice Conversations then "like" me on facebook, and then share the page with your friends: https://www.facebook.com/ChoiceConversationsPodcast
Help the Podcast! I would greatly appreciate it if you went to itunes, wrote a quick review, and rated the show. This is a great way to increase downloads and to help the show grow. The more downloads, the more easily I can book high profile guests: https://itunes.apple.com/us/podcast/choice-conversations/id315666764
---
Thu, 19 June 2014
Financial Freedom with Jake Desyllas
Jake Desyllas from The Voluntary Life podcast joins me to talk about financial freedom. What is financial freedom? What are the different paths to get there? How does investing fit in? What about real estate?
We cover a great deal of ground in the conversation, dipping into related topics and not so related topics. What are the economics of voluntarism? Why does communism fail? How does the family relate to government? How does the family relate to a job you might take? All of that, and much, much more!
Find more from Jake here: http://www.thevoluntarylife.com/
His new book: http://www.thevoluntarylife.com/p/books.html
Four Ways to Quit the Rat Race: https://www.youtube.com/watch?v=Zz-dxV8VfPE
Related podcasts:
http://choiceconversations.libsyn.com/living-free-in-an-unfree-world-with-kevin-koskella
http://choiceconversations.libsyn.com/own-the-world-with-andy-craig
http://choiceconversations.libsyn.com/investment-strategies-with-andrew-craig
Choice Conversations is now on Facebook. Stop in, say hi, discuss the shows, and more! If you like Choice Conversations then "like" me on facebook, get notifications, and then share the page with your friends: https://www.facebook.com/ChoiceConversationsPodcast
Help the Podcast! I would greatly appreciate it if you went to itunes, wrote a quick review and rated the show. This is a great way to increase downloads and to help the show grow. The more downloads, the more easily I can book high profile guests: https://itunes.apple.com/us/podcast/choice-conversations/id315666764
Bumper music: https://www.youtube.com/watch?v=2_jrvqMOxsY
---
Thu, 6 February 2014
Living Free in an Unfree World with Kevin Koskella
Kevin Koskella from the Freedom Lovin podcast joins me to discuss how he found freedom in an unfree world. We cover his six strategies for increasing personal freedom:
1. Emotional freedom. This is the first step before anything else. He recommends Nathaniel Branden's work, Non-violent communication, and Acceptance therapy. Without breaking free in this realm, you won't be free anywhere else in life. Focus on this personal stuff first and go out from there.
2. Travel. Traveling can open up new worlds. The world is not a scary place as it turns out.
3. Figure out what you need to be happy. Keep those things, get rid of the stuff that doesn't make you happy. You will be freer when you purge like this.
4. Become financially free. Don't let this be daunting. What are your priorities? People travel the world making $1000/month. That's freedom.
5. Build a business but really think about what will bring you the most freedom. Online businesses offer the advantage of being able to live anywhere. Many businesses will give you less freedom. Watch out.
6. Set up an anonymous New Mexico LLC and start using Bitcoin. Try to deal with banks and government agencies as little as possible, but don't break laws- there are too many other ways to be free to risk going to jail (Harry Browne talks a lot about this).
Find more from Kevin here:
https://twitter.com/freedomlovinguy
Related podcasts:
http://choiceconversations.libsyn.com/the-search-for-greener-pastures-with-erik-townsend-part-1
http://choiceconversations.libsyn.com/the-search-for-greener-pastures-with-erik-townsend-part-2
http://choiceconversations.libsyn.com/the-world-is-our-classroom-with-miro-and-lainie
http://choiceconversations.libsyn.com/breaking-the-cycle-with-peter-gerlach
http://choiceconversations.libsyn.com/five-personal-marital-and-family-hazards-with-pete-gerlach
http://choiceconversations.libsyn.com/the-trivium-and-non-violent-communication-with-darrell-becker
http://choiceconversations.libsyn.com/judgment-and-responsibility-with-darrell-becker-and-wes-bertrand
Harry Browne's great book: http://www.amazon.com/How-Found-Freedom-Unfree-World-ebook/dp/B007KTDHJK/ref=sr_1_1?s=books&ie=UTF8&qid=1391715651&sr=1-1&keywords=how+i+found+freedom+in+an+unfree+world
Harry Browne's audio course: http://www.harrybrowne.org/AudioCourse.htm
Pete Gerlach's work on Inner Family Systems therapy:
http://sfhelp.org/gwc/guide1.htm
http://www.youtube.com/user/gercacn?feature=watch
The works of Nathaniel Branden, including sentence completion exercises:
http://nathanielbranden.com/sentence-completion-i
http://nathanielbranden.com/sentence-completion-ii
Secrets of the Millionaire Mind: http://www.amazon.com/Secrets-Millionaire-Mind-Mastering-Wealth/dp/0060763280/ref=sr_1_1?s=books&ie=UTF8&qid=1391700936&sr=1-1&keywords=secrets+of+the+millionaire+mind
Rich Dad, Poor Dad: http://www.amazon.com/Rich-Dad-Poor-Teach-Middle/dp/1612680011/ref=sr_1_1?s=books&ie=UTF8&qid=1391701712&sr=1-1&keywords=rich+dad+poor+dad
Choice Conversations is now on Facebook. Stop in, say hi, discuss the shows, and more! If you like Choice Conversations then "like" me on facebook, get notifications, and then share the page with your friends: https://www.facebook.com/ChoiceConversationsPodcast
Choice Conversations has an opening for an editor. Unfortunately my editor had to retire, and I simply do not have the time to do it myself. Podcasts may be few and far between if I don't get some help! It is super easy, I can talk you through how to do it, it just consumes more time than I have available. If you enjoy the podcast and otherwise receive value from it, editing a few shows for me would be a great way to reciprocate and give value in return. Message me on facebook for details: https://www.facebook.com/ChoiceConversationsPodcast
Help the Podcast! I would greatly appreciate it if you went to itunes, wrote a quick review and rated the show. This is a great way to increase downloads and to help the show grow. The more downloads, the more easily I can book high profile guests: https://itunes.apple.com/us/podcast/choice-conversations/id315666764
Bumper music: http://www.youtube.com/watch?v=vZv1rNqoNxo
---
Sun, 8 December 2013
Why We Love Shakespeare with Carson and Jeff
Carson and Jeff from Bardcast, the Shakespeare podcast, join me to discuss the life and works of William Shakespeare. This is a fun conversation where we discuss why we love Shakespeare, and attempt to answer questions like "Is Shakespeare still relevant today?" and "Was Shakespeare a racist?" In addition, we spend some time talking about the glorious rock star life style us podcasters get to enjoy, and close it out with a short list of Carson's favorite Shakespeare themed films and plays.
Find more from Carson and Jeff here: http://bardcast.blogspot.com/
We spend more time discussing King Lear than any of Shakespeare's other plays, simply because it was the play I'd read most recently and had closest to the forefront of my mind. :) I should mention there are spoilers for King Lear in this podcast.
Here is the lecture on King Lear mentioned during the show:
http://podcasts.ox.ac.uk/king-lear-audio
Choice Conversations is now on Facebook. Stop in, say hi, discuss the shows, and more! If you like Choice Conversations then "like" me on facebook, get notifications, and then share the page with your friends: https://www.facebook.com/ChoiceConversationsPodcast
Help the Podcast! I would greatly appreciate it if you went to itunes, wrote a quick review and rated the show. This is a great way to increase downloads and to help the show grow. The more downloads, the more easily I can book high profile guests: https://itunes.apple.com/us/podcast/choice-conversations/id315666764
Bumper music: http://www.youtube.com/watch?v=vZv1rNqoNxo
---
Fri, 8 November 2013
The Search for Greener Pastures with Erik Townsend, part 2
The conversation continues with Erik Townsend, as he tells us about his epic journey around the world.
Many topics are explored, including the following: How do the considerations differ when evaluating a place for snow birding verses a primary residence? Hawaii is a hell hole? Why not the Carribean? But isn't Europe fiscally insolvent? What was it like living out of a suit case perpetually? What about our good friends in the TSA? What are some good survival tips for this type of traveling? What is the value in agility? And finally, what was Erik's pick for a home base? What about a plan B in case things sour there? Conclusions?
Below are the travel destinations covered in this show:
Honolulu
San Sebastian
Paris
Cannes (France)
Monaco
Munich
The Italian country side
Montreal
And more on Hong Kong and Puerto Vallarta
If you missed part 1, you'll find it here: http://choiceconversations.libsyn.com/the-search-for-greener-pastures-with-erik-townsend-part-1
Find more from Erik here:
http://www.financialsense.com/financial-sense-newshour
http://choiceconversations.libsyn.com/slow-motion-armageddon-with-erik-townsend
http://choiceconversations.libsyn.com/episode-10-green-shoots-erik-townsend-interview
http://choiceconversations.libsyn.com/getting-technical-with-townsend
http://choiceconversations.libsyn.com/the-argument-against-hyperinflation-with-erik-townsend
http://choiceconversations.libsyn.com/beyond-peak-oil-part-1-of-2
http://choiceconversations.libsyn.com/beyond-peak-oil-part-2-of-2
Looking for a house in Maine? Buy Erik's house! http://www.eriktownsend.com/Latest/maine-waterfront-property-for-sale.html
Choice Conversations is now on Facebook. Stop in, say hi, discuss the shows, and more! If you like Choice Conversations then "like" me on facebook, get notifications, and then share the page with your friends: https://www.facebook.com/ChoiceConversationsPodcast
Help the Podcast! I would greatly appreciate it if you went to itunes, wrote a quick review and rated the show. This is a great way to increase downloads and to help the show grow. The more downloads, the more easily I can book high profile guests: https://itunes.apple.com/us/podcast/choice-conversations/id315666764
Bumper music: https://www.youtube.com/watch?v=n0H3RlaQVrM
---
Mon, 28 October 2013
The Search for Greener Pastures with Erik Townsend, part 1
Erik Townsend is back, but this time to cover a different topic: world travel! Erik had spent his entire life living in the United States, and thought it was time to evaluate what the rest of the world had to offer. Erik tells us about his epic trip around the world, evaluating alternative residences.
Learn about the differences between traveling to a location for recreation and actually living there. Why is it that recognizing that a place is up and coming is not the same thing as determining it is a place where you'll want to live? Find out that and much more, including what Erik liked and didn't like about the following places:
Hong Kong
Thailand
Mexico City
Puerto Vallarta
Argentina
Chile
Australia
New Zealand
In order to keep the shows to a more readily digestible size, I broke the interview into two episodes. This is part one. Part two can be found here: http://choiceconversations.libsyn.com/the-search-for-greener-pastures-with-erik-townsend-part-2
Find more from Erik here:
http://www.financialsense.com/financial-sense-newshour
http://choiceconversations.libsyn.com/slow-motion-armageddon-with-erik-townsend
http://choiceconversations.libsyn.com/episode-10-green-shoots-erik-townsend-interview
http://choiceconversations.libsyn.com/getting-technical-with-townsend
http://choiceconversations.libsyn.com/the-argument-against-hyperinflation-with-erik-townsend
http://choiceconversations.libsyn.com/beyond-peak-oil-part-1-of-2
http://choiceconversations.libsyn.com/beyond-peak-oil-part-2-of-2
Looking for a house in Maine? Buy Erik's house! http://www.eriktownsend.com/Latest/maine-waterfront-property-for-sale.html
Choice Conversations is now on Facebook. Stop in, say hi, discuss the shows, and more! If you like Choice Conversations then "like" me on facebook, get notifications, and then share the page with your friends: https://www.facebook.com/ChoiceConversationsPodcast
Bumper music: https://www.youtube.com/watch?v=n0H3RlaQVrM
---
Wed, 14 August 2013
Snowden, Manning, the FED, and Competing Currencies with Steve Patterson
Steve Patterson joined me for a free-flowing discussion, a "BS session" if you will. A potpourri of subjects was covered, including the following:
Edward Snowden
Bradley Manning
traitors vs heroes
The American Revolution
9/11
critical thinking skills
questioning authority (but I repeat myself)
the economy
What would you do if you were chairman of the FED?
inflation
competing currencies
being bearish during a bull market
the challenges of running a podcast
being star struck
setting major life goals
success in sales
debating politics
The difference between progressives, conservatives, and libertarians
"speed reading" audiobooks and podcasts with applications like stitcher:

http://www.stitcher.com/
Steve breaks up a bit for a minute or two in the middle of the podcast, but the audio quickly improves afterward. Don't get discouraged, it won't last long!
---
Wed, 12 June 2013
The God of Atheists with Stefan Molyneux
Stefan Molyneux is back, and this time we discuss his fantastic novel The God of Atheists. I had a ton of fun talking about this book with Stefan, and if you've not yet read it, don't worry, this episode does not contain any spoilers.
And if you've not yet read The God of Atheists, I have to ask why not? This novel is truly a masterwork, the most important work of fiction since The Fountain Head. You've got to read this book!
The paperback version can be found here:
http://www.lulu.com/shop/stefan-molyneux/the-god-of-atheists-softcover/paperback/product-1775028.html;jsessionid=E620D82D6A8242A91415F77BAECF6534
PDF and audio versions of the book are available for gold donors on Stef's website:
http://www.freedomainradio.com/Donate.aspx
Bumper music: https://www.youtube.com/watch?v=6j1sxvun384
---
Tue, 4 June 2013
Deconverted with Seth Andrews
In this show I speak with Seth Andrews, author of Deconverted: a Journey from Religion to Reason, and founder of the website and podcast The Thinking Atheist.
We talk about Seth's journey from being a Christian radio DJ to being a public advocate for truth, what proof is required to believe in a deity, free markets, and more!
Please visit Seth's wonderful site and buy his book:
http://www.thethinkingatheist.com/
Bumper music: https://www.youtube.com/watch?v=-xA84aIAWEk
---
Tue, 16 April 2013
Who is Chris Stefanick?
Two Beers with Steve has now become the Choice Conversations podcast. In this show we learn about the host's journey; how he unplugged from the matrix.
Below are links to several items mentioned during the show.
Peter Gerlach's "Break the Cycle" website: http://sfhelp.org/pop/course.htm
Wes Bertrand and Complete Liberty: http://completeliberty.com/
The Market for Liberty free audio book: http://podiobooks.com/title/the-market-for-liberty/
True News 13: Statism is Dead - Part 3 - The Matrix: http://www.youtube.com/watch?v=P772Eb63qIY
"The Law" by FRÉDÉRIC BASTIAT: http://mises.org/books/thelaw.pdf, http://mises.org/media/2648/The-Law (audio version)
How I Found Freedom in an Unfree World by Harry Browne: http://www.amazon.com/How-Found-Freedom-Unfree-World/dp/0965603679/ref=sr_1_1?s=books&ie=UTF8&qid=1366068892&sr=1-1&keywords=how+i+found+freedom+in+an+unfree+world
Nathaniel Brandon sentence completion exercises:
http://www.nathanielbranden.com/exercises/
http://www.nathanielbranden.com/exercises/sentence-completion-i/
http://www.nathanielbranden.com/exercises/sentence-completion-ii/
Bumper music: http://www.youtube.com/watch?v=-xA84aIAWEk
---
Tue, 19 March 2013
Wrath of the Kahns with Dan Carlin
This week Dan Carlin joins us to mix a little history into the discussion. Dan is the host of a political podcast called Common Sense, as well as one on history called Hardcore History. On the latter, he recently did a series on the Mongol empire, and that is the discussion for today's show.
I had a blast doing this show, getting to pick Dan's brain on a variety of points about the colorful story of the Mongols. Check out his web site for more:
---
Sat, 13 October 2012
Baby, I'm Back
After an extended break I (think I) will be back on a semi-regular basis putting out shows. I've reformatted the show down to 30 minutes (or so) in an effort to get me back in the podcast-o-sphere.
This episode is a meandering conversation with Chris Stefanick on various topics. As you might imagine I am a bit rusty on podcasting but I will get back into the swing of things before long.
Steve
---
Mon, 2 July 2012
Episode 117 - A Bit About BitCoin
A while has passed since our last podcast but after a long break I'm back with a podcast about Bit Coin.
Bit Coin is a digital currency that is not affiliated with any person, country, or nation. It is an independently operating currency that is very much still in it's infancy after almost four years of being circulated. But in this interview Brian Nugent explains that Bit Coin is not just some passing fancy, it is actually an emergent technology that has the momentum to upend the current monetary system... or to out it more bluntly, the current monetary regime.
This interview is an eye-opening look into what could very well be the future of money. Please don't miss this informative podcast.
Donate to my BitCoin Wallet - 14ZF5Vpz9SSwdXkJAsDtHcRsUYSJAF2R16
---
Sun, 25 March 2012
Episode 114 - The Stories I Tell Myself
An introspective podcast into the results of what happens when I tell myself the story of 'how bad things could get'. Is this a dangerous activity? Will I follow the path of the Unabomber? Can I be a functional member of society?
---
Thu, 29 December 2011
Episode 108 - Nutrient Dense Diet
EAT TO LIVE by Dr. Joel Fuhrman. That book and that doctors name have been uttered around this house so many countless times. That book changed the way we eat, the way that we view food, and the way that we view our bodies. Now is he the Guru of Health and Diet? I would argue that he is not and decades (maybe even generations of study) are needed to determine why he is right and why he is wrong.
In this short vignette I open up about the way that I eat and the reasons we do so. I also admit the possibility that the way we eat may not be the optimal diet... but... I argue that we are headed in the right direction.
Take care, have a happy new year, and if you have questions about the Eat To Live diet, my wife and I would be glad to respond.
---
Sun, 25 December 2011
Episode 107 - A Thinking Mans Comedian, Lee Camp
I discovered Lee Camp on the aggregator site, Knowledge is Asking the Right Questions, and for a few months I caught his videos when they were posted. His videos were aptly titled 'A Moment of Clarity' because of the fact that he shreds apart the Logical Fallacies so evident in politics and the media nowadays. Comedians like Lee Camp (and to an even greater extent, Jon Stewart) are rightly raising their eyebrows at the rhetoric being pumped out of the Big Brother speakers.
Lee Camps Moment of Clarity Videos and Podcasts
Lee Camp on Fox News 'A Festival of Ignorance'
---
Wed, 21 December 2011
Episode 106 - Anti-Statism; Book Challenge; Parenting
Another vignette that was recorded as I was driving down the road. I announce that I will be interviewing comedian Lee Camp who is morally responsible for the excellent YouTube video series 'The Moment of Clarity'. I discovered his work through some postings on the aggregator site. Knowledge is Asking the Right Questions.
---
Tue, 6 December 2011
Episode 105 - The Tea Party is Based on a False Premise
Just me and my Iphone App, recording a vignette as I sit in my office.
The argument I am making, "The Tea Party is Based on False Premise", is one that I make often to people who associate themselves with the Tea Party. Needless to say, I don't get invited back to Tea Party parties.
The song I chose for close out the show is 'The Debtor' by Miles Benjamin Anthony. His entire album is great but this song in particular stands out above the rest.
---
Fri, 2 December 2011
Episode 104 - Logical Fallacies
Dr. Michael Labossiere joins me in a discussion concerning Logical Fallacies. For the unintiated Logical Fallacies are, roughly speaking, an error in reasoning.
My interest in this topic came from a passing comment made by a guest on another podcast I was listening to, he mentioned that logical fallacies are ever-present in commercials. This piqued my curiosity and I explored the topic further including Richard Gula's excellent book 'Nonsense: A Handbook for Logical Fallacies'.
I then sought after a guest that could come onto my show and illustrate the logical fallacies that we most commonly come across; ad hominum, appeal to emotion, appeal to the crowd, the fallacy of confidence, etc.. My search led me to Dr. Michael Labossiere, professor of Philosophy at Florida A & M and also author of two book on logical fallacies; '42 Logical Fallacies' and '30 More Fallacies'.
---
Wed, 23 November 2011
Episode 103 - Man on the Street
In this episode I wander over to Occupy Chicago and talk to a few individuals about the Occupy Movement. It was a great time and I recorded an interview with a flag waving veteran. I also spoke with some young gentleman which were a few of the folks that I had hoped to see at the Occupy movement; young, vigilant, curious, capable of listening and learning. That conversation was not recorded.
---
Fri, 11 November 2011
Episode 102 - Inside Tent City (OWS)
Once again Mandy Henk joins me on the show and once again I am talking about my guilty pleasure, discussing Occupy Wall Street. I was knee deep into the Tea Party activism, even with it's many flaws, but this time I'm head over heels for Occupy Wall Street, even with it's many flaws.
Mandy has Occupied Wall Street (via Zuccotti Park) on three seperate visits. Having been someone who has seen the movement grow into now what may very well be a revolution, I thought she would be a great guest to discuss the issue. Mandy illustrates the daily goings-on and what the feel of the crowd is. We discuss the logistics of going to the bathroom as well as describing the soap-boxing that goes on.
---
Fri, 28 October 2011
Episode 101 - #Occupy The Impossible Math
Nathan Martin joins me to discuss why he is supportive of Occupy Wall Street yet he thinks their focus should squarely be on the ownership of wh gets to control the production and distribution of this country's monetary unit.
---
Sun, 2 October 2011
Episode 100 - Part 2 of 2 - How Can Resiliency Be A Bad Thing?
---
Wed, 28 September 2011
Episode 100 (Part 1 of 2) - The Great Big 'I Don't Know'
100 episodes. That is alot of episodes.
Part 1 of 2 is The Great Big 'I Don't Know' and Part 2 is What Can Be Wrong About Resiliency
This is a two hour conversation split over two episodes, unedited, uncensored, and thoroughly entertaining. It was a return to our roots of having roundtable discussions about anything we damn well feel like talking about. It is what I like to call the Zen of Two Beers of Steve...
Enjoy...
Steve
---
Mon, 12 September 2011
Protesting the XL Pipeline with Mandy Henk
Protesting the XL Pipeline with Mandy Henk
---
Sun, 14 August 2011
Episode 98 - Gold, Markets, and the Culture of Fear
Oh, how I love doing the podcast! I have missed it over the summer but the tradeoff is that I get to spend almost every free minute with the kids and working in the garden; learning and shaping my knowledge for another fruitful year. I believe that everything that I spend my precious little free time must be used towards creating something of value.
You might be asking how watching Mad Men episodes fit within that 'creating value' mantra. Well, I watch those episodes sitting beside my wife and afterwards we analyze the episodes and discuss the traits that each character possesses and what drives them. Those conversations are helpful ways in connecting with my wife on a different level from our careers, finances, or the children.
Everyone can have afford themselves a little fun, you just have to know to use that entertainment to better yourself and your relationships.
In this episode I drink a cup of coffee and tear into the microphone for 40 minutes. I follow that stream of consiouscness that is SO Two-Beersy-like. Comments are encouraged but you'll have to email me directly. My address is twobeerswithsteve (at) hotmail.com.
I'd love to hear from ya'.
Stev e
---
Wed, 10 August 2011
Episode 97 - Investing in Yourself with Charles Hugh Smith
I know, I know, the world is goig to hell in a handbasket at the moment... the market volatility is frightening! But what are we are going to do about it? What is the best advice that anyone can give you right now?
In this discussion, which was taped on the eve of the market collapse (and then it's eventual snap back up), I talk with Charles Hugh Smith on his new book The Unconventional Guide to Investing in Troubled Times (available now on Amazon in Kindle format). CHS explains the effects that globalization and centralization of power has had on our global economy and how he thinks the pendulum is going to be swinging in the other direction... and soon. Maybe not this week kinda soon, but within this next decade kinda soon. So how do you prepare for that?
CHS gives probably the best advice one can give during these uncertain times, invest in yourself. Sounds easy right? But what does it mean to invest in yourself and what must you consider when you make such a bold move. There are consequences to investing in yourself that need to addressed... and I can't wait to read all about it in his latest book
The enticement of CHS's latest book (since it is only in Kindle format at the moment) pressured me into purchasing a tablet reader, and so I am one of 'those guys' now. Et tu Steve, et tu?
Steve
---
Thu, 21 July 2011
Episode 96 - Prepping For Uncertainty - Part 2 of 2 Listener Conversations
This is the second part of my listener conversations. This time my guest is Tim Flood of El Paso, TX. Tim is a long time listener of Two Beers With Steve and fellow Chris Martenson Forum contributor.
In this episode we focus in on how a regular Joe Six Pack has taken preparations in his own life to preparre for an uncertain future. We discuss gardening, investing, food storage, water filtering and home brewing.
---
Tue, 5 July 2011
I'm Back... With Nelson Lebo
After a long break, I was able to catch up with Nelson Lebo. After a long monologue introduction by yours truly we launch into a discussion about building raised the beds the fast, cheap, and easy way. Hidden in this episode are a boatload of helpful hints on backyard gardening and homesteading.
Enjoy the episode, I leave for vacation tomorrow and hopefully I will get back on the horse again and knock out a few great episodes so that I can get to that coveted 100th episode. I think we will have a roundtable discussion with the guys that we first started with... I may also pester my wife to join us. Who knows...
Steve
---
Sun, 3 July 2011
I finally reached the point at which I feel the need to tell Two Beers Nation that I have taken a long extended leave of absence. I have an episode ready to publish but the editing touches have seemed too much like work in the past month, so I've ignored my internet duties.
I'll be back and I think the conversation will evolve. I think long time listeners and philosopher kings know where I am headed next... towards the solution, onward and upwards.
At the moment I am clearly way behind the eight ball for which I put myself under. Many of my current projects are firmly in line with the goals of my show and what I've talked about for the last two years. I need to be part of the society pursuing an answer, I don't need to be part of the society that groans and mumbles about what 'they are doing to us'.
Part of the answer I am pursuing is to immerse myself into building a community that has their eyes on a very different future. It is going to be a very long and slow process and will require alot of me. I apologize for the absence but I have not 'gone away', there are plenty of great podcasts to keep you busy until I get my groove-on again.
C-Realm
KunstlerCast
Freedomain Radio
EconTalk
Common Sense with Dan Carlin
Truth About Markets with Max and Stacey
Get back to work,
Steve
Category:
general
-- posted at: 7:54 PM
---
Mon, 23 May 2011
Steve Gets Burglarized
In this episode I talk about how I had my car broken into and the valuable contents inside were stolen. I move frlom talking about the physical possessions to the psychological effects of having been violated. I also expand the discussion into talking about how this is the world into which we may see much more of this type of crime as more and more people become desperate to make ends meet.
I read listener emails and make comments based on their thoughts. A listener asks me to talk about the farmers market and I talk at length about how things are going and some of the problems I have had thus far. I expand that discussion into talking about how I am going to start giving speeches about 'intentional communities' (knowing full well that hippies from the early 1970's used that same term to describe their utopian dream-states).
This is a very unpolished and raw edition of Two Beers With Steve. I wish that I had a more polished approach to talking about topics at length, but I simply don't have the training and I don't have the time. Once the record button is hit, no matter how much I want to try to get my speaking pattersn clear, the um's and the ummm's and the ya' knows just come naturally out of my my mouth. Take my speech patterns with a grain of salt and enjoy...
---
Fri, 13 May 2011
Episode 93 - Silver, Osama and Easy Rider
After a few weeks away from podcasting I return with Gonzalo Lira for a random conversation where we cover many topics such as Silver, Osama, Homeland Security, Freedom, and Generational Breakdown.
You may have already noticed but I disabled comments for my show because I was recieving between 30-40 spams daily. Since few people even used the feature ( I appreciate those that did, and I ready every comment) I felt the feature ended up being a big time waster for me (having to delete all those junky ads). If you want to contact me you can do it directly at twobeerswithsteve at hotmail.com.
Enjoy the show as much as I did recording it. I love to engage in conversation like this anfrom time to time as a way to post a great show in very short time period.
---
Sun, 24 April 2011
Stumbling Homestead with Darcy Menard
This week I speak with Darcy Menard, host of the podcast Stumbling Homestead. We center our discussion around Darcy's transition from a career minded professional to a sustainable farmer (in training). In our conversation we hit many of the high-points that many people wrestling with the transition often go through; talking with the spouse, relating with friends and peers, dealing with children, etc..
We also discuss home schooling, Excalibur dehydrators, and Berkey Water Purification Systems.
---
Wed, 13 April 2011
The Crash Course with Chris Martenson
Chris Martenson returns to Two Beers With Steve to talk about his new book, The Crash Course. The new book provides a much needed update to his video series by the same name but also delves deeper into the subject matter and the book includes many more topics not discussed in the video.
Since Chris' website is the first website that I have ever have posted a comment on, I must admit that I am preferential to his audience and to his content. Be that as it may, I think in this interview I was able to steer Chris away from many of the talking points to which I know that he has grown accustomed to talking about. This diversion into topics such as his thoughts on the effect of the growth based paradigm have on our culture and his feelings towards complexity prove to be some of the best moments in the interview.
Listen to the podcast, buy the book, pass it on to a friend who is just starting to question r'eality'.
---
Sat, 9 April 2011
Beyond Peak Oil Part 2 of 2
---
Wed, 6 April 2011
Beyond Peak Oil Part 1 of 2
Steve Crower and Erik Townsend come together in a two part episode that looks at the energy industry and how it will come when we have gone beyond Peak Oil.
---
Sun, 27 March 2011
The Lira Principle
This week I am joined once again by Gonzalo Lira to discuss his theory of the Lira Principle.
---
Fri, 18 March 2011
The Domino's Are Falling...
---
Sun, 13 March 2011
Permaculture with Paul Wheaton
I am joined this week by Paul Wheaton. Paul Wheaton is the host of the largest permaculture website in the world, www.richsoil.com
This episode is filled with useful tips from the permacultural front. During the podcast, Paul talked about his lawn care philosophies, permaculture and diatomaceous earth. He gives a quick overview of his articles on ants and aphids, Sepp Holzer, hugelkultur and flea control
In addition to the helpful info you will acquire by listening to this podcast, listeners may also be thrilled by the amount of chops-busting and hard-times that Paul and I gave each other. I don't know how that happened, it just seemed natural for both of us to take playful jabs at one another. We actually got along famously... I think.
Like most of my guests, Paul is a guest I will have to have back on in the future. I was fascinated by the seminars he hosts that highlight how a permaculturist can make $200,000 by working the land and his/her livestock properly. Amen to that!
---
Tue, 8 March 2011
My Run-In With Rahm Emanuel
Low and behold I run in with one of the worlds most powerful and feared men... and I just wanted to pick him up and squeeze him like a child's teddy bear. He certainly has a media persona that does not match the man himself.
In this episode, which is more of a back-and-forth dialogue between Gonzalo Lira and myself, we discuss my chance encounter with the f*ck#ng mayor of Chicago and meander into side topics that add color to the main discussion.
To see the pics of Rahm, my wife, and me you can visit the Facebook fan page for Two Beers With Steve.
---
Wed, 2 March 2011
Moving Forward With Aaron Wissener
Anybody who is familiar with this podcast knows that I have investigated at great length the problems that we face. But eventually there came a time in which I had to do something and move forward and start looking at realisitic solutions. In this episode and in past episodes and alos in upcoming episodes I want to highlight the people who are going out there and making a difference at the local level. I want to know why they do it and how they do it. I want to know what they are doing and who is doing it with them. I think these podcasts can be an invaluable treasure for those interested in getting involved.
I was introduced to Aaron Wissener through Chris Bedford. Chris mentioned multiple times that Aaron was a go-getter and someone I definitely needed to talk to. He is the founder of a local organization in Muskegon, MI called Local Future. The mission of Local Future is to create local resilient communities but the organization really sprang out of Aaron's realization that Peak Oil was a reality and that the reality of Peak Oil would have real world implications. Therefore Aaron saw a need to organize people around the idea of resilient communities.
---
Sat, 19 February 2011
BioDynamics with Allan Balliett
In this episode Allan Balliett introduces me to the new term BioDynamics(or is it an ancient term as old as civilization itself?). Biodynamic agriculture is a method of organic farming that treats farms as unified and individual organisms, emphasizing balancing the holistic development and interrelationship of the soil, plants, animals as a self-nourishing system without external inputs insofar as this is possible given the loss of nutrients due to the export of food.
Allan Balliett mentions the book Ideal Soil: A Handbook for the New Agriculture by Michael Astera numerous times and presents the book as a manual on how to create plants that are both healthy and nutrient dense. The idea that we can just add more compost to solve many of our gardens problems may be flawed because the soil is more dynamic than what conventional wisdom would have you believe. In some cases soil samples may be necessary to identify missing nutrients.
---
Sat, 12 February 2011
I have been recieving this once-a-week email newsletter from a listener for quite some time, nearly 6 months. The name of the newsletter is 'Knowledge is Asking the Right Questions' and it is an aggregation of the best videos/podcasts/blogs/articles/cartoons on the web and it is all assembled by just one guy.
I have used this newsletter to stay up to date on current events that I missed during the week and to find new guests for the show. I asked the newsletter creator if he would be fine with me forwarding along the newsletter and he said it would be fine.
If you are interested please email me at twobeerswithsteve (at) hotmail.com. Subscription would be free.
Category:
general
-- posted at: 6:15 PM
---
Wed, 9 February 2011
Water Crisis in America With Robert Glennon
Just when you didn't need one more thing to be concerned I bring forth unto you another civilization-stunning problem that threatens our modern living and is by it's very nature the issue is a political pariah. The issue is about water, and why we need to educate ourselves on how we use this valuable resource and realize just how scarce fresh water is.
'Water, water everywhere
Nor any drop to drink.'
My guest was Robert Glennon, professor at the University of Anizona and author of the book Unquenchable: America's Water Crisis and What To Do About It. In this interview we discuss the amount of freshwater available vs. the amount of water on earth and how the hydrologic cycle has supplied our earth with freshwater since... well... the beginning of the hydrologic cycle.Since that time, we have had the same amount of freshwater as the dinosaurs but we use freshwater in many different ways that are important to our modern living. Some of which are destroying the freshwaters ability to used for human consumption. It doesn't take more than a passing glance at the statistics of water to be concerned. Robert Glennon does more than just glance at the stats and delves into some serious issues that we face when it comes to freshwater use and it's longer term threat. Robert goes as far as to say that we face a Crisis.
---
Tue, 8 February 2011
Foss and Lira will be debaing deflation vs. hyperinflation on February 10, 2011 at 9PM EST. The live event will cost you about $45
I love this idea and would like to see more of this info-tainment going into the future. It brings together smart bloggers in a WWF smack-down style debate. It may not tickle your feathers quite like mine, but I think you'll see the very beginnings of a new format of internet media, The Main Event.
Register Here to participate.
Category:
general
-- posted at: 6:57 PM
---
Sat, 5 February 2011
Awakening to the Food Revolution
My guest this week was Aaron Lucich, the film-maker of the upcoming film 'We Are What We Eat'. Aaron also is a public speaker on the subject of Organic Food.
In our interview we, of course, covered many topics but mainly centered the ideas that are in his film. We talked about the need for more sustainable and natural growing of food rather than the industrial model of farming which is wasteful and ultimately unsustainable. We talk about the best methods of reaching out to the masses and consider options that could be used on a large-scale (beyond the small pockets of already aware citizens). We also talked about eating lifestyles such as Weston A Price and Vegan.
At the end of this podcast I added on another seperate podcast that is just of myself, Steve Patterson, that you will enjoy. I rant and rave like a madman, but not really. I just jotted down a few things I wanted to say, turned on the microphone, and riffed for a good 35 minutes. Let me know what you think of my random thoughts, and if you feel it necessary you can email me at twobeerswithsteve(at)hotmail.com.
Bob Cannard Video Interview From the Aaron Lucich Facebook Page... a must see.
---
Wed, 26 January 2011
For whatever technical reason my hosting service changed a feature of my podcast that only allowed the past 10 episodes to be posted on my RSS feed. Well, with the help of my new website designer I was able to fix that.
So if you are one of the many who have complained, you can now go to my RSS feed you can download all 81 episodes.
Thank ya, Thank ya...
On a side note, I have been hangin' out at Gonzalo Lira's 'Hourly G' blog where he kicks out quick tidbits about current events a few times a day. They are short and interesting news items that he comments on. The amount of time to eat up each article is really low and the information is newsworthy stuff. Just thought you might be interested.
Category:
general
-- posted at: 3:21 AM
---
Mon, 24 January 2011
Heirloom Seed Swap with Johnny Max
Johnny Max of the website Heirloom Seed Swap joins me to talk about how you can save your seeds and engage in seed swapping (he also has his own podcast, Self Sufficient Homestead and BeerTalkRadio, interestingly enough).
We go over the basics of seed-saving your own seed from the crops that you grow in your own garden. Then we discuss how you can take those seeds and trade them for a wide variety of different seeds on his website www.heirloomseedswap.com
The discussion also goes over how to cultivate your own species of a vegetable variety. There is some pretty gardening questions put forth by myself (I'm a newbie at this gardening thang) but much of it will have value to even the seasoned gardener.
---
Wed, 12 January 2011
Stefan Molyneux on the Free Market
This week I talk with Stefan Molyneaux, host of FreeDomain Radio. Not only can you get this episode as a podcast but you can also watch the video of Stefan's Youtube channel, here is the LINK. You can see ol' Two Beers in action in this video as he interviews a guest, I have to admit that staring into a camera is not the most comfortable experience in the world but it is a new challenge that I hope to overcome. In fact, if you find me terribly dreadful in this interview (which upon review I think is the case) then you can blame it to the fact that it was the camera in my face.
Like every episode on this program we discussed a multitude of topics, some of which were free markets, healthcare, public smoking, the initiation of force, Alex Jones, why I (or Stefan, or anyone looking to make a difference) will never run for office, etc..
As always with Stefan, if you don't agree with him then at least be entertained by his info-tainment, it is truly some of the best out there.
---
Sun, 9 January 2011
Chris Bedford on Resiliency
Chris Bedford returns to talk about what is going on since we last talked. In that time frame he has continued work on his local farmers market, worked as a community activist, and is currently working with a committee on bringing a TED Conference to a nearby college.... what have you been doing since Chris was last on our show?
We also wander off into many other topics worthy of discussion, of course, the most notable side discussion is our chat about the Governor of New Jersey Chris Christie. Chris Bedford shared some insightful analysis from someone who was a union activist for many years.
---
Fri, 31 December 2010
The Mythology of Progress with John Michael Greer
By far the most requested guest from listeners is John Michael Greer and I am pleased to have finally have him on as a guest. Although at first glance I wondered why listeners were so enamored with this gentleman with the long beard who writes for the blog The ArchDruid Report, but I soon found out that JMG's perspectives on many subjects pertaining to economic, techno-industrial, and Peak Oil concerns were in-line with typical guests on Two Beers With Steve.
In this discussion we delve into many topics starting with Druidry and then moving into Peak Oil and the ASPO conference. Interestingly enough JMG was a guest speaker at the ASPO conference and details that difference between the 'suits' and 'sandals' crowd. We also talk about the impact of a world affected by oil shortages and I ask John Michael if he holds out hope for any new technologies that will fill the gaps left by diminishing oil production (and I asked that question with a straight-face mind you).
For the hardcore crowd who can't get enough Two Beersy talk I added on a five minute after-interview discussion I had with JMG that I thought would be interesting to anyone listening. Just let the music play and the credits roll at the end of the podcast and you'll be rewarded.
---
Mon, 27 December 2010
Housing on the Brink
Patrick of Patrick.net stops by to discuss the housing market. Much of what we discuss has been talked about before concerning housing but in this discussion we have the benefit of a long period of hindsight. We trace the housing crash from its origins through today and then Patrick offers his version of what the future holds for us. Patricks forecasting of the future is insightful because he incorporates the failures of other nations that have faced the same dilemma as the US (mainly Japan) and we are just re-tracing their steps.
---
Fri, 17 December 2010
Jeff Cohen on Mainstream Media
Never before has this program, Two Beers With Steve, had a guest who was as far into the Mainstream Media Culture as Jeff Cohen has been. Jeff Cohens bio reads like a guest on the McLaughlin Group, not this ol' shabby program... but please, nobody tell Jeff.
I thoroughly enjoyed interviewing Jeff Cohen and I also thoroughly enjoyed his book Cable News Confidential (2006). Even though people have made the criticism of Jeff Cohen that he is a typical left-wing liberal I think his book and his rhetoric go beyond the two-party paradigm to expose something larger; corporate control. He speaks as though he has no mainstream media career to protect anymore and that may be true since he has established himself firmly in the alternative media system.
This show was a departure from traditional topics but still is fascinating and worth a double-listen. Take care and let me know what you think about this topic... I'd be interested in knowing.
---
Thu, 16 December 2010
KMO of the C-Realm Podcast stops by...
I've had some difficulties loading up this podcast so please bear with me, the recording of this podcast also had some irregular difficulties. Someday I'll eventually figure this all out.... someday.
In this episode KMO of the C-Realm Podcast stops by to talk about his recent book (Conversations On Collapse), his Podcast, and the Eco-Village. We also explore many other topics including talking about KMO's tales of the road as he has been couch-surfing while promoting his recent book. The conversation also veers into talking about technology and Kevin Kelley's recent book 'What Technology Wants'.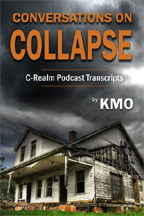 ---
Wed, 8 December 2010
Gonzalo Lira on Current Events
In my first ever interview with Gonzalo Lira we cover a multitude of topics, many of the topics are applicable to the current events that our world now faces and a few other topics are thrown in for good measure and a whole lot of fun. But ultimately, the conversation was informational and important.
The reason we came together to talk was the events surrounding the Irish Banking Crisis that is unfolding in real time. The domino's are slowly starting to fall across the Euro-Zone area and the solutions. GL makes many predictions as well as a defined commentary on the events that led up to the crisis.
Probably the 'gem of the show' was GL's take on the movement of money into commodities and the reasons why. During the editing process I picked up on a few comments he made that I hadn't fully comprehended.
---
Fri, 3 December 2010
Plateau Oil vs. Peak Oil with Steve Crower
Steve Crower returns to give his latest insight on Peak Oil, or rather the introduction of the term 'Plateau Oil'. The Plateau Oil term refers to the introduction of both new technologies that increase the existing oil fields (marginally improving the yield) and new technologies that bring shale oil to the market. The effect will be a plateau-ing of oil production or, to put it differently, oil supply. The demand part of this equation remains a question mark but we spend most of our time in this interview discussing the supply side.
Thanks for the generous donation from Peak Oil Medicine, here is the website. www.PostPeakMedicine.com
---
Sat, 27 November 2010
Spotlight on Private Equity with Josh Kosman
Josh Kosman returns to once again talk about the Private Equity industry, an industry many of us have little knowledge of and an industry that greatly impacts all of us.
The facts are that the number two private employer in this country is a Private Equity firm, KKR, and among the top ten private employers in this country five of those companies are PE companies. There is no question that PE firms have a direct impact on our economy and thus should be on the radar screens for anyone following the economy.
I asked Josh Kosman to come back on the show to give us an update on PE since we last spoke and to my surprise they are making a dramatic comeback. The reason is simple, with the Federal Reserve keeping interest rates far below the natural rate of interest the investment managers at pensions and mutual funds are looking for some yield to meet the hurdle rate (minimum acceptable rate of return) that is mandated by the fund.
In effect, the Fed is pushing money right into the hands of the very PE firms that saddle good American companies with debt while gutting the infrastructure at the same time. It is a deal that leaves the companies unable to compete internationally and makes the US less competitive as a result. Hopefully Josh can give us some good news that things are changing...
Buy the book "The Buyout of America" by Josh Kosman
---
Thu, 18 November 2010
Dave Pollard on Complexity
Dave Pollard, author of the How To Save The World blog, joins me in an episode dedicated to our Culture of Dependency and how our civilization has evolved into a highly complex system that lacks the resilience to handle the multiple crises that we now face.
This episode examines the structure of our complex society and how it has been a product of an era of abundant cheap energy (ie. petroleum oil). We also discuss overshoot and what that means to future societies. Along those same lines we talk about a transition to steady-state economics (while hashing out the probability of it ever being implemented).
A truly enjoyable guest and a great episode. Thank you all for listening. Towards the end of this podcast we talk about how the listening and reading community is as much a part of the New Revolution as the speakers and writers.
-Ol' Two Beers
Download Podcast Through Itunes
Books mentioned:
Dave Pollards Book Finding the Sweet Spot
The Upside of Down by Thomas Homer-Dixon
---
Mon, 15 November 2010
Nelson Lebo, one of our previous guests and Mr. Permaculture extraordinaire, contacted me yesterday concerning a project worthy of the attention of the Two Beers With Steve crowd. I can't help myself but just forward the information on because Nelson has provided me with some of the best episodes I have done (Full Disclosure: I say this about ALL my guests).
From Nelson:
my wife and I have started our 'Do-Up Down-Under.' We will be doing a full permaculture installation
on a property that was full of rubbish and a house that could have
ended up condemned. This is no exaggeration. Please see:

www.theecoschool.net
http://ecothriftydoup.blogspot.com/2010/11/nature-as-model.html
http://ecothriftydoup.blogspot.com/2010/11/let-sun-shine-in.html

Our goals are to provide the highest quality, low cost sustainability
education possible, and to make learning about sustainability
entertaining and fun. Our motto is 'Act Locally, Share Globally.' The
sharing will be through regular blogs, podcasts and short videos.

We'd like to get our message out to as wide an audience as possible.
Category:
general
-- posted at: 2:43 AM
---
Sun, 14 November 2010
The Truth about Politics and Narcissist Breeding Grounds With Steve
In the absence of a guest I pick up the microphone and go the distance by myself and recount the events that occurred while on my trip to North Carolina. Oh... the things I learned. It was certainly an eye-opening experience and I share my experiences in this episode.
I also tell the tale of what it was like to be inside the halls of one of the nations best B-Schools, Duke University's School of Fuqua. Interesting stuff and worth a listen (or two).
Towards the end I give my rebuttal to the argument that Ol' Two Beers is against Progress. It is utter nonsense that I want to return to the days of yore and I defend myself against such a simplistic view. I think anyone who confronts this very same argument will be armed to the hilt with counter-argument weaponry that is the equivalent of ICBM's just by listening to the last 15 minutes of this podcast.
---
Fri, 5 November 2010
The Argument Against Hyperinflation With Erik Townsend
Many of us know the proponents of hyperinflation; Marc Faber, Gonzalo Lira, the National Inflation Association, and maybe even Peter Schiff falls into this category. When we look to countries that have experienced hyperinflation in modern times we can see direct parrallels between their monetary policies and that of the US's in the past few years and we can draw a quick conclusion that we will experience hyperinflation as well.
In this interview with Erik Townsend, enterpeneur and private investor, Erik argues that this conclusion is too simplistic and does not take into account the 'Five Fundemental' differences between the US Dollar and those currencies mentioned as examples of hyperinflation.
---
Fri, 29 October 2010
The Peak Oil Blues With Kathy McMahon
Are you going 'Sane' in a Crazy World? Are you having difficulty relaying to your spouse the predicament that we face as a nation, or as a planet?
In this episode we examine the pysche of what it is like to unplug from the Matrix and see reality for what it is, not what we want it to be. Kathy McMahon, a certified psychotherapist who specializes in clients who suffer from anxiety, fear and depression brought on by the realization of how real our reality is. Kathy is a therapist who 'gets it', she has done the research, is brilliant enough to know that you cannot a finite resource ad infinitum, and realizes that we may be near or past Peak Oil.
This episode was at the same time a departure from our normal topics yet very necessary and relevant to what we discuss. Many of the insights Kathy said had me saying 'that happened me too'. I think this a must-listen for everyone aware of Peak Oil.
---
Mon, 25 October 2010
Optimism, Hope and Diet - Charles Hugh Smith Returns
Another episode with well known blogger Charles Hugh Smith of www.oftwominds.com. This time around it is less of an interview and more of a disucssion about reasons to be optimistic and a few solutions that you can implement in your life that will make a large difference. This discussion eventually evolves into a conversation about the way that I (Steve) eat at my house and the diet my wife and I follow.
To be truthfully honest about this episode, I really couldn't hold my tongue and be the one asking questions when the topic crossed over into diet because it is a topic that is near and dear to my heart. I may not be a physician or nutritionist but I have plenty of anectdotal evidence, plenty of self-education, and plenty of logic to back up my case that the American Diet is the culprit for the worlds most expensive healthcare system (although I don't call it a healthcare system because they never actually discuss health when politicians argue over which system is best).
I apologize for the speed in which I talk when I get excited... holy crap. I was speaking at a pace that I have never heard before. Wow, I really wanted to cram a whole lot of information in a matter of seconds. During the editing process I realized just how blinding my speech cadence was. I can't imagine a trained host performing any such stunt, it is truly us amateurs doing the quick-talking.
Most notable links to check out:
Eat to Live by Dr. Joel Fuhrman
CDC's Obesity Epidemic Map Awesome Link!
Simply Raw Reversing Diabetes in 30 Days!
---
Wed, 20 October 2010
Yes, yes, I know... my website sucks! I am quite frank with all those that say this (albiet more politely) and say that I don't care, the website is my shoddy storefront in an abandoned alley that no one ever visits. So tell me why I need to invest my time/money into a better experience for those that venture onto my site?
The truth behind my scruffy facade about not caring is that I actually do care. The barrier between me and having a site worth visiting and spending time is a barrier of knowledge. I don't know how to make a better site and I am reaching out to those that can help me put together something you wouldn't be ashamed of. I have ideas all the time about things I would like to include on my website but that idea never materializes because the barrier of knowledge stands in my way.
I have gotten this far along with my podcasting but reciting to myself 'necessity is the mother of invention'. Which means that I figured out how to podcast only after I had the desire to podcast. Now I have the desire to build a decent website and now comes the follow-through.... I'm asking for your help.
If you want to help, email me at twobeerswithsteve(at)hotmail.com. Replace the (at) with an @.
Thank you,
Steve
Category:
general
-- posted at: 7:49 PM
---
Mon, 18 October 2010
Charles Hugh Smith on the financial-ization of our nation
A great conversation with the author/blogger Charles Hugh Smith who writes for the OfTwoMinds blog. We cover topics such as the financialization of our economy, the wealth and income gap, social and political subjects, and the various definitions of capitalism.
Although CHS and I weave in many topics into this episode we ran out of time to hear CHS's opinions on why we should be optimistic and hopeful of the future. That is why next week I will be inviting CHS back for another hour long discussion on Survival Preparation, Health, Diet, Organic Gardening, etc.. Should be another great chit-chat. Stay tuned.
Survival+: Structuring Prosperity For Yourself and the Nation The 5-Star rated book by CHS, available on Amazon
Click on this link to go immediately to Itunes for download (you can also subscribe to 2BwS here).
---
Sat, 9 October 2010
How Bad Will It Get?
Ferfal IS... the INconvenient Truth. Within the realm of possibility is the scenario where chaos erupts and social unrest leads to a violent chain of events. Also within the realm of possibility is the scenario where very little happens and crime just ticks up just a bit. Nobody knows the future and everyone's view of what will happen are mere probabilities at the moment (although some probabilities have much higher chances of being realized).
In this podcast I lay the groundwork for why I think we will suffer a collapse of some sort, either a big or small one. Then we delve into what happens, how to prepare, what being 'one minute too late' means, and other topics. It was a great discussion and I welcome everyones input as to what they think will happen and why.
Ferfal's book Modern Survival Manual: Surviving the Economic Collapse which has a rating of 4.5 Stars on Amazon.com
You can email at twobeerswithsteve(at)hotmail.com, replace the (at) with an @ when emailing, this is my way of averting thousands of spam emails.
---
Sat, 2 October 2010
Ferfal on the Argentina's 2002 Collapse
Rioting, protesting in the streets, chaos, political and social unrest.
This describes the collapse of the Argentinian economy and the hyperinflation of its currency. In 2002 the people of Argentina experienced such a scenario and I talk with Fernando Aguire who blogs from Buenos Aires about what is was like to experience it firsthand and what he thinks are similiarities and differences in our situation in the US.
Surviving in Argentina Website
Ferfal's book Modern Survival Manual: Surviving the Economic Collapse which has 4.5 Stars on Amazon.com
You can subscribe to Two Beers With Steve through Itunes and receive automatic downloads by following this link
---
Wed, 29 September 2010
The "It's Me, Not You" Podcast
It's been too long between podcasts and I couldn't nail down a guest so I decided to go it alone this time. The reasoning behind this title is hidden inside the dialogue of this episode and in short, this podcast serves my selfish need to have good conversations more than I would hope it serves my audience... I'm sorry, I'm deeply sorry. (You know that I am just kidding, right?)
I cover a few topics such as having coversations with folks about the issues discussed on Two Beers With Steve, Wall Street 2, Gold at 1300, the collapse of Argentina.
Enjoy.
---
Sun, 12 September 2010
Propaganda, Koran Burning, and Hindenburg Omens with Nathan Martin
A Two Beers With Steve 'Jam' Session where Nathan Martin of Nathans Economic Edge discuss many topics; propaganda, koran burning, net neutrality and Jim Puplava of Financial Sense Newshour.
Phil Davison Nomination Speech - An epic fail video.
---
Tue, 7 September 2010
For those that may have already heard, the profits from the sale of the Two Beers With Steve T-shirts went to fund Dave Gardners film Hooked on Growth, which is very close to beocming a reality. Our $200 donation is a drop in the bucket in terms of the costs associated with the film.... but it is a healthy start for the Two Beers With Steve Charitable Foundation (hahaha) and what I plan on doing with this show.
Here is the email I just received from Dave Gardner
Steve,

I'm not sure if I've acknowledged your $200 contribution or thanked you for that generous contribution to the GrowthBusters non-profit documentary project. Things have really been hopping here, as we work night and day to wrap up production and try to finish the film by early 2011. Your support will help us cross that finish line.

If you haven't already, I encourage you to subscribe to our email newsletter to keep you informed as we approach release of the film.

Meanwhile, thanks for spreading the word about this project. Feel free to keep it up. We need tens of thousands of GrowthBusters around the world to get this film seen!

Also, please consider clicking on the icons below so you can "like" our fan page on facebook, follow us on Twitter, or subscribe to our YouTube channel.

Again, thank you. Very much! And stay in touch.


Dave Gardner, President, Citizen-Powered Media
Producing the Documentary,
Growth Busters
presents
Hooked on Growth: Our Misguided Quest for Prosperity

Join the cause at www.growthbusters.org
760 Wycliffe Drive
Colorado Springs, CO 80906 USA
+1 719-576-5565
Category:
general
-- posted at: 9:11 PM
---
Sat, 4 September 2010
Fresh - The Movie
Interview with Ana Sofia Joanes, director of the new film Fresh.
The newly released film Fresh once again uncovers the dangers of monoculture farming and consolidated animal feeding operations. Nature has fought began fighting back and it is becoming evident that industrializing our food system was a bad bad idea. But can we abandon it and if we could how would we ever be able to feed ourselves.
Ana's film isn't Malthusian doomsdaying, it is quite the opposite. Fresh meets with sustainbale and organic farmers who are making a difference, farmers who have solutions. The solutions they offer make environmental sense while at the same time making economic sense.
I purchased the movie Fresh for a personal home screening where I invited fifteen people from my community for an evening of good food and an important documentary. You can do the same thing in your community.
---
Thu, 2 September 2010
Mish on a Mission
Mike "Mish" Shedlock stops by for two beers but I only get a chance to polish off one beer because unfortunately we only had 30 minutes.
Although the interview was a brief one I stayed out of Mish's way while he talked about deflation, Helicopter Ben, college students, walking away from home mortgages, and everyone's favorite question 'what should the average investor do?'.
We will definitely be talking with Mish again in the future and getting a little bit more behind the scenes on when he thinks all this debt will eventually matter, meaning does he think that kicking the can down road eventually ends? Trillions have been promised in entitlements but where is the money coming from? Lots of lots left to be asked.
For those of you looking to get a better sense of the inflation vs. deflation argument I would urge you to make a donation of $1 or more and get my inflation vs. deflation newsletter where many of the basic arguments are made for both cases and what the probability of both cases are.
Thanks for listening,
Steve
---
Fri, 27 August 2010
Talking Tools with Nelson Lebo - Part Two
This is the second podcast in a series of podcasts that we are having with Nelson Lebo about tools for the thrifty gardener as well as the Post-Peak-Oil Farmer (both are very simliar as we discuss in the podcast).
We manage to chat about three more tools in this installment; the tine rake, the hoe, and the scythe. But as we bring up each tool we then contintue into a conversation surrounding the Tool, Timing and Technique (TTT, popularized by Nelson himself) that provides the listener (and myself) with a great deal of knowledge. Other side topics include composting, raised beds, and mowing your lawn a scythe!
---
Sat, 21 August 2010
Douglas French of the Ludwig Von Mises Institute
What is an Austrian School Economist? What principles do they believe in and what do they think of our current situation?
I've heard on many podcasts and interviews someone refer to themselves as an Austrian Economist and wondered what that meant. Sure, I understood those from the Austrian School were non-interventionalists and anti-bailout but what else do they stand for?
In this interview Douglas French, President of the Ludwig Von Mises Institute stops by to talk about the Austrian School of Economics. We discuss many issues concerning Austrian Economics including libertarianism, liberalism, and free markets.
If you have never been to the Mises.org website then please spend 4-5 minutes cruising the vast resources of excellent material. You'd be amazed at the amount of information that is availbale for free on their website, and don't forget to pick up a Rothbard Flask in the Site Store, Two Beers Approved!
---
Thu, 12 August 2010
Ian Gordon on Kondratiev Winter
Ian Gordon gives me an education on the Kondriatev Cycle and what it means to our current economy. The kondratiev Cycle is typically divided into four seasons with each season signifying a phase in the natural cycle of a capitalist economy. A spring signifies a rebirth of the economy and winter signifies a difficult period of purging all the bad debts from the economy. Winter Cycles are usually when the economy experiences a depression.
A more sensational title to this podcast could have been 'Ian Gordon predicts Dow 1000!' but I chose not to and instead chose to make the Kondratiev Cycle the focus of this podcast. Ian Gordon surely makes the profound statement that the Dow will grind down to 1000 as the equity markets are purged of bad debts and malinvestment. To learn of possible investment safeguards against such a deflationary event tune into this great episode.... and yes, we do talk about gold and cash.
Work by Ian Gordon and the Longwave Group Free to view but you must create an account... quick and easy.
The Kondratiev Cycle on Wikipedia
---
Sat, 24 July 2010
Talking Tools With Nelson Lebo - Part 1
I talk with Nelson Lebo about essential tools of a post-petroluem world... or for whatever world you live in (a modern world, a world where credit has dried up and food deliveries are erratic, a world where you care about the food you eat and where it comes from, a world where you realize that anything that ends with a -cide means death).
We only get as far as talking about one essential tool but we learn about many of the techniques that Nelson uses to preserve that tool and how to be the most effective with it.
---
Sun, 11 July 2010
Jack Spirko on Modern Survivalism
Jack Spirko of the Survival Podcast stops by to educate Ol' Two Beers on Modern Survivalism. We also talk about Jacks background, the beginnings of his podcast, and where the future may very well lead us.
Both Jack and I spend alot of time talking on this podcast about many of the shortcomings of our modern society and how our ability to handle crisis is limited. Jack also details the differences of our grandparents ability to handle the Great Depression differs from our current generation, and how this particular financial bomb will have more of an impact on our society...
But the episode is not all Fear and Loathing in 2010... the episode is actually uplifting and optimistic. Jack speaks as though he's come from the future and he is here to spread the good news... that we all live in the end, and we manage to lean on our brothers in hard times and we get through this.
---
Thu, 8 July 2010
T-shirts are finally here and as my buddy Rip commented upon first sight of these amazing shirts he said 'Those are Ahhhh-some'. He was impressed to say the least.
I'm not a T-shirt aficionado but I took the time to buy a T-shirt of high quality and I used a hi-tech form of screen-printing (no sense in having my mug disappear after ten washes). i went the distance on these T's to get the best.
I'm charging $20. You can purchase by clikcing on the BuyNow Paypal link on my site. That includes shipping for all US customers (those outside the US can contact me directly and I'll see what I can do).
I hope to have a good bit of money left over after costs to use for a donation to the film 'Hooked on Growth' by Dave Gardner. I'd like to see our show listed in the credits...
Supplies are limited and I don't think I want to get into the T-shirt business so first come, first serve and when they are done... they may be done.
Steve
Category:
general
-- posted at: 9:17 PM
---
Tue, 6 July 2010
The Modern Day Paul Revere - Nicole Foss of Automatic Earth
After a few years of consuming and digesting massive amounts of information pertaining to our current financial/energy crisis I find it rare that I consume a 'game-changer'. So it was exciting to have an MP3 forwarded to me that provided me with that game-changing moment.
Now, when I say game-changer, I'm not talking about What will happen, but rather How it will happen. The How is focused on the debate about whether deflation or inflation will win the day. Because to get from where we are, (a debt-saturated global economy) to there, (historically normal debt ratios), we have to go down either one of two paths; inflation or deflation. For the most part I really don't care, the outcome of both still means that I need to move up the learning curve on my gardening skills, start building a local community, and continue to keep educating myself on all matters that pertain to self-sufficiency.
Where inflation vs. deflation matters to me is how should I react with my investing strategy. This is why the debate has importance to me and probably you. In this interview Nicole Foss of Automatic Earth makes a compelling case for deflation, probably the best I've heard as of yet.
The title of this episode comes from the fact that Nicole is criss-crossing the globe in an effort to prepare those that are ready to hear her message that something life-altering is coming. Just as Paul Revere rode through Lexington to warn the patriots of sudden attack, Nicole is globe-trotting to warn the patriots of sudden collapse.
---
Tue, 22 June 2010
Ol' Two Beers - Steve talks about the show, his background, and what his guests have taught him
The table gets turned in this episode and Nathan Martin (A two time guest on 2BwS, woop-woop) asks the questions. We explore topics such as my background, which tends to go on longer than it should have... but who doesn't like talking about themselves, c'mon! We also talk about the show; past guests, thoughts I've pulled away from my guests, what I've learned, yadda-yadda.
The interview eventually breaks down into the typical type of conversations that me and Nathan have had. The conversation seems to follow a narrow stream of consciousness and I think most everyone will appreciate the candidness of both Nathan and I. These are the types of conversations that more people should be having.
I don't think anywhere in the interview are we complaining about what THEY are doing to US. That is an important statement for me to make, because I don't want to view myself as a victim of the system, or some higher power (Royal Order of the Frog? hmmm.).
I hope you enjoy this episode
Send emails, comments, guest suggestions to twobeerswithsteve@hotmail.com
You can subscribe through Itunes by clicking on the Itunes link on this page.
---
Tue, 15 June 2010
Organic Gardening Workshop with Nelson Lebo
Nelson Lebo is an award-winning environmental educator with 20 years
teaching experience. He has been an organic farmer and green builder
for the decade. He is trained in Organic Land Care, Ecological
Design/Build, Eco-Renovation and holds a Permaculture Design
Certificate. Nelson has worked as a design consultant and educator in
the USA, Costa Rica, Nicaragua, India, Australia and New Zealand. He
is currently pursuing a PhD in permaculture education at the
University of Waikato.

Contact: theecoschool@gmail.com
Blog: surf2survive@blogspot.com
Nelson is looking for sponsors in the New England area and the vicinity to host his four hour workshop on how to garden organically and do it successfully without much energy input. If you are interested in hosting Nelson please contact Nelson or myself.
---
Fri, 11 June 2010
Filling In The Gaps - A Chat About Two Beers
This is not an official episode, be not disappointed. This is a quick chat about what is going at the Two Beers With Steve Factory. I thought there were a few pieces of business to take care. Here are a couple points that I make:
1. I talk about what Two Beers With Steve is about
2. I announce that we are working on selling Official Two Beers With Steve T-Shirts. Arrive in style this summer for the family picnic with one of our doozy t-shirts. Impress your friends and family.
3. We will be interviewing Steve of Two Beers With Steve in the coming weeks, stay tuned.
4. Become a friend on Facebook
Thank you, Thank you,
Steve
---
Sun, 6 June 2010
It Ain't Over - Karl Denninger on the Markets
Denninger discusses the Federal Reserve, Congress, the financial markets, inflation/deflation, and whether or not gold is a safe haven.
This interview starts out with Karl Denninger recounting his days as CEO of an internet company during the go-go 90's. Karl recalls the stress of betting the company every 18 months to keep in line with the latest technologies and that it was understood by everyone in the industry that we were clearly in a bubble at the time. The bubble promptly busted, but by then Karl had already exited stage left.
Karl was called back into action by the activity in the Asian stock markets in 2007. Since then he has remained an active trader and analyzer of the markets. You can catch up with Karl Denninger at his Market-Ticker blog.
You can contact Two Beers With Steve at twobeerswithsteve@hotmail.com
Please subscribe to Two Beers With Steve Through Itunes
---
Wed, 2 June 2010
Getting Technical With Townsend
Erik Townsend stops in to discuss the financial markets and give his viewpoint of what it is like to be living in Hong Kong.
This episode could easily be a two-part episode. The first half hour is spent giving our roundtable a different angle on China and Hong Kong than what we Westerners see in popular media. It was truly an eye-opening discussion as I had this idea of China being a country with little identity besides rice patty fields and toy factories.
The second part, which encompasses about an hour of discussion, focuses on the financial markets. Erik chats with us about his investment strategy, hint: he is a speculator, and what that strategy means as far as what tools he uses and his investment duration. After a few moments of strategy the conversation turns to an overview of where we have been and where we are now.
Great episode and it was great to have all the seats at the roundtable filled.
Subscribe to Two Beers With Steve through Itunes to receive automatic downloads of our newest shows.
---
Sun, 23 May 2010
Hooked On Growth with Dave Gardner
Have we come to the tipping point of exponential growth or do we still have room to run? If we have more room to run, then how much further out is the tipping point?
These are serious questions that we should be asking. The conversation needs to be started and Dave Gardner is trying to put it on the agenda. With his soon to be released film 'Hooked On Growth", filmaker David Gardner asks the question that no one wants to hear, 'Do we really want/need more growth?'. In this hard hitting interview with Dave Gardner we dissect the side effects of an unsustainable growth path.
While it is very true that growth has provided our planet with incredible technology and innovation, Dave Gardner explains that we need to re-examine where we are at the moment and develop a more balanced approach to growth in the future. The idea is not to abandon our current system but to look beyond the end of our noses and peer into the future of where we headed.
The Hooked on Growth Website - Become a film Producer (not really) by donating to the film's completion!!!
---
Fri, 21 May 2010
For a long time I have been receiving complaints of my Facebook page telling me that they couldn't access my Facebook page. I poo-poo'd there complaints as technical errors on their part when in fact it turns out it was mine. The default settings on Facebook only allowed US users of Facebook to become fans, you have to switch that setting manually to allow International users to become fans. So I did that and now my Canucks and Aussies can come play with us.
So there it is. I apologize. But if I was to play the blame game, I would blame Facebook for underestimating the International appeal of Two Beers With Steve....
By the way. While I'm offering Mea Culpa's I should also mention that when you comment to this site it has to go through an approval process first. The reason being is that I get about 3-4 bogus postings a day to this site. It is better for everyone if I screen the postings first to avoid 36 posts advertising ugg boots, and safety vests. The best way to make contact with me is always my email twobeerswithsteve@hotmail.com. I answer all emails... eventually.
Steve
Category:
general
-- posted at: 2:01 PM
---
Mon, 17 May 2010
Navigating Challenging Times With Cam Mather
Anybody looking past the bridge of their nose knows that we are headed for some challenging times... for many the hard times are already here. Cam Mather has recently released his book 'Thriving During Challenging Times' to give you a roadmap on how to overcome the obstacles that we soon will face.
One of the hardest aspects for me about preparation is sifting through all the data to find the information that I can really use. Cam's book is a shortcut to the knowledge you'll need. But this book is only a starting point... but a valuable one. I think there is still plenty to explore beyond this point. Enjoy the show.
Order the book 'Thriving During Challenging Times' directly from Cam
---
Tue, 11 May 2010
Urban Farming With Jules Dervaes
Download this episode to your MP3 player, throw on your work clothes, grab your spade and head to the garden. Leave the European Bailout and the NYSE glitches behind you and grow something real.
Jules returns to the show and this time I (Steve) have moved beyond making lame excuses as to why I don't have time to grow my own tomato's. The questions I have for Jules this time are more directed to the beginner gardener but I have a feeling any green thumb will enjoy this coversation as well.
This episode of Two Beers kicks off with a short chat about Jules' appearance on a reality show on the Food Network channel. It's a lively and humorous discussion but I encourage you to follow the links below and watch the show for yourself. Getting a glimpse of the Dervaes' home is a rare treat and can inspire you to build a two-story Cobb oven... just watch the video already. Enjoy the podcast.
Jules Dervaes - Path to Freedom - Urban Homestead - Find them on Facebook
---
Wed, 5 May 2010
Episode 45 - Growing Health - Chris Bedford Returns
Chris Bedford discusses his current film, which is still in production and will be released Labor Day 2010.
The idea of the film began from a comment made at his local farmers market that a gentleman was able to cure his asthma through locally grown honey. The story begins there but quickly expands from a narrative of the health benefits of locally grown diet to Peak Oil and it's effect on community and also to a spiritual connection with our world and nature. Steve and Ed question Chris all the way through that journey and get a sense of what Chris is trying to accomplish.
One of my favorite moments was when Chris was asked, 'Do know how your film will end?' (or something similiar to that) and Chris says, 'No'. To me that is the true documentary film. The 'End' just emerges from the process of making the film. There is no contrived conclusion that the storyline is weaved around, rather the opposite happens, the story brings forth the solutions/answers/further questions. Getting to the Truth is the goal.
You can pre-purchase copies of the film, Growing Health, which will fund the movie during it's production phase. Chris would really appreciate the support. You can do this by going to clicking on this link, Pre-Order Growing Health.
"Food is the beginning. As citizens and consumers we can help turn the economy towards true ecological sustainability through our food purchases." Chris Bedford
---
Fri, 30 April 2010
The View From The Peak - Interview With Steve Crower
Once again Steve Crower stops by to visit with the Two Beers With Steve crew and this time his audio is far superior.
As I do with every show, I re-listen to the podcast while editing it and I must say that I feel this podcast is an education on Peak Oil, even for those who feel they are already educated. There were methods of extraction I had never heard of, types of fuels I was unaware of, oilfields I didn't know existed. For anyone who may already have a conclusion as to what the future of oil holds for this may want to give this podcast a listen, and then re-listen again.
---
Sun, 25 April 2010
The Episode of Byron Dale - Author of Modern Money Secrets
'The Episode of Byron Dale' title just stuck with me after recording this podcast. The title reminds me of a good John Ford western film with shadowy characters who avert justice and rule by power... this podcast has alot of that story. Byron Dale tells his own story of how he witnessed justice averted in his own life and what most of us can expect from our government if we decide to take a stand. This is not a story of discouraging others for standing up for what they believe, but instead this story is a wake up call to the powers that you are going up against.
Beyond the 'main story' of this podcast we also discuss Byron's books and the very familiar topic of exponential money and fractional reserve banking.
---
Thu, 22 April 2010
Watch this:
http://www.thedailyshow.com/watch/mon-april-19-2010/these-f--king-guys---goldman-sachs
I often say that there are two types of media available for the masses; mass media and massturbation media. Jon Stewart is the latter type of media. Yes, he is funny and he is making funnies about subjects we find interesting... but do not be fooled mon frere, this is not information you are getting, it is entertainment.
The Two Beers With Steve Podcast, now there is information that is also entertainment, hoo-wah!
About this Goldman Sachs thing... hasn't anyone else questioned the political aspect of this? This may just be a political move (it totally is, I'm just playing nice). The SEC is a toothless regulator and after having spent the past decade as a Wall Street puppet the SEC now has the hands of Washington up it's arse.
What I gather is that the current administration (Dem's) has made an excellent chess move and forced the died in the wool free-market Republicans to counter with their 'save capitalism' diatribes. Just imagine how unpopular it will be for Republicans to defend the likes of Goldman Sachs right around election time. You can already see this in the Jon Stewart video, the Rep.'s will go down in flames in the world of his soundbytes. The genuis Daily Show writers will only allow a few words from Republicano's to be taken out of context to make their hilarious point. No need to allow the Republicans to complete a thought, oh no, that works against the punchline.
Don't be bamboozled into thinking that I support the two-party paradigm, I definitely do not. But I understand the chess match played between them and the way the massturbation media perpetuates the illusion of the populous having a choice.
The SEC case against Goldman will play out as much in the financial media as it will in the mass media becasue Goldman has become the rich and ruthless villian that Americans all love to hate. Defending the GS bastards, or even capitalism, or de-regulation, or free markets will be a losers gambit. Oh, what a wonderful move the Dem's have made.
Nevermind the fact that what GS did was immoral or unethical, that has nothing to do with it. This is about POWER and very little about anything else.
Steve
Category:
general
-- posted at: 5:54 PM
---
Tue, 20 April 2010
On The Campaign Trail With BJ Lawson
BJ Lawson stops by to talk about his campaign for Congressman in the 4th District of North Carolina. He is fighting a tough race in against an incumbent, (D) David Price. Unlike many other political interviews you'll hear, we don't get into the Us Vs. Them, Republican vs. Democrat, going nowhere fast paradigm that you will find everywhere else. Instead it is more of a discussion about finding out what BJ Lawson stands for, and also what he is against; such as the Food Modernization Act.
We also discuss BJ's take on the Tea Party; what is it, what do they think, where do they stand?
Excellent Video Series by BJ Lawson, an absolute MUST-WATCH... perfect Two Beers With Steve material.
---
Sat, 10 April 2010
Bouncing Babes And Net Neutrality
In this episode I interview Stefan Molyneux of Freedomain Radio. The title of this podcast is intended to draw in the masses, but don't be disappointed, we actually do discuss bouncing babes and net neutrality. Lucky you.
This interview covers many topics but we cover the topics from a different angle this time. My intent for this show was to have a more philosphical discussion on many of the topics that we talk about all the time on this show. Stefan's podcast 'Freedomain Radio' specializes on the philosophical aspects of our current financial/economic/political situation. In Stefan's words, 'Philosophy is what matters most', when it comes to diagnosing the problems we are facing today.
---
Thu, 8 April 2010
I wouldn't normally support a political candidate in almost all cases except in this case. BJ Lawson is running for Congress in the 4th District of North Carolina. I know what you are thinking, I don't live in that district therefore I can't vote for him, and that is very true. I also do not live in the 4th district of North Carolina and I also cannot vote for BJ, but that does not meant we cannot support BJ in other ways.
There are many ways to support BJ Lawson. The two most important ways are donating your time, or donating your money. These are the two most valuable resources to you and they are the resources that will get BJ elected.
But I don't blindly support BJ Lawson simply because he has a charming smile and takes his kids to soccer practice. I have posted a few videos that BJ sent me that would be of interest to you and give you, the reader, some perspective on what BJ stands for. I despise the idea of promoting my ideology without giving you the proper information for you to make your own informed choice.
Category:
general
-- posted at: 1:47 AM
---
Wed, 31 March 2010
Kunstler On Many Things
James Howard Kunstler, or as we like to call him, Jim, tackles six questions from the listeners of Two Beers With Steve. Questions range from social unrest to finance to, of course, Peak Oil. Too bad we ran out of time for a sort of Behind The Actors Studio style of rapid-o questioning. Maybe next time.
KunstlerCast- JIm's very own podcast that he does with Duncan Crary where they explore a multitude of topics and give us all an example of a what good conversation once sounded like.
---
Tue, 23 March 2010
A World Worth Inheriting
In our second interview with Chris Martenson since we've begun this podcast we discuss Chris' recent travels; foreign and abroad. I ask Chris questions such as 'what new perspectives have you gained?' and 'what were the objections you faced?'. Chris also recalls the experience of giving his shortened Crash Course presentation to academia types at the London School of Economic, a place that Chris describes as the 'lions den' of economics.
We also find out exactly what Chris is doing in his personal life to prepare for a world that is full of uncertainty. So download the podcast, upload it to your MP3 device and enjoy the interview while you plant those tomato seeds!
---
Sat, 20 March 2010
How 'Bout Them Apples!
Damon Vrabel, writer for the Free Canada Press and avid poster on the CM website, recounts his time at Harvard Business school and gives Steve a visual on how the school really operates. We also discuss many other issues, most of the issues surround the topic of our debt based monetary system.
The title of todays podcast is a play on a line from the movie Good Will Hunting. The phrase 'How about these apples?' comes from a scene when Will Hunting confronts a group of wealthy, arrogant, elitist Harvard students. From the perspective of an ordinary serf, this scene is a very uplifting moment.
---
Sun, 7 March 2010
Unemployed? Become An Organic Farmer!
The title of this podcast, "Unemployed? Become An Organic Farmer!", refers to a comment made in our interview with Ann Adams of Holistic Management International that she believes our agricultural industry will need 50 million more farmers if we are going to have a sustainable farming future. Sometime in the future (5 years, 10 years, 20 years?) the large scale, fossil fuel dependent methods of our current farming operations will be unsustainable for multiple reasons (Peak Oil, the poor soil content, etc.)
The pendulum is swinging back towards the smaller scale farming and there is a desperate need for organic farmers to fill the gap. For those that are seeking employment in industries that will be much smaller in a Peak Oil environment or worse, your industry may become irrellevant, organic farming could be an excellent option.
We also cover may other topics along the lines of organic farming; international as well as what is happening here domestically in the US.
Links
Holistic Management International
---